Israel Dairy World - Agritech '96
Tel Aviv, Israel / 1996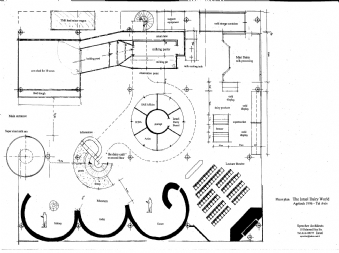 layout of the Israel Dairy Pavilion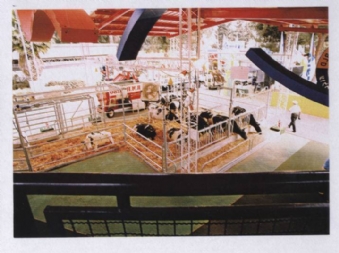 an operational 10 cow dairy farm on the exhibition
In 1996 we were given the opportunity by the Israel Dairy Board to conceptualise a demonstration dairy project, to be established in conjunction with the Agritech '96 International Agriculture Exhibition in Tel Aviv. The project should show the public all aspect of the dairy chain - from the preparation of the TMR fodder ration, housing ten cows, milking demonstrשtions on an hourly basis, milk storage and processing into several products - all in front of the public !

The project included also a cold storage display of the enormous variety of the Israeli Dairy products available on the local market. The public did have the opportunity to taste many of these dairy product and VIP guests were invited to the dairy restaurant on the second floor - overviewing the whole pavilion.
The pavilion included a display showing the history and the develoפment of the Israeli dairy sector.

The project was designed by us in collaboration with Yoav BenTzur (exhibition designer) , and because of it's complexity it was decided by the IDB, that we also would be responsible for the establishment and operation during the exhibition itself. This was a great challenge and we enjoyed the collaboration with the IDB / ICBA and many other professionals involved in the dairy sector in Israel.

Amongst the many visitors, was the representative of the CII from India and on their behalf a similar project was established and operated at the Agrotech '98 exhibition in Chandigarh, Punjab, India.